WHAT DRIVES US
...
TO UTILIZE LEADERSHIP, CONTINUOUS IMPROVEMENT AND AN UNRELENTING WORK ETHIC TO BECOME A TRUSTED PARTNER IN THE PRODUCT-HANDLING INDUSTRY.
Being entrusted to serve in ways that make a memorable and measurable difference.
To provide unmatched value through execution and expertise while building
meaningful relationships with our associates and customers.
INTEGRITY } We commit to practice behaviors that promote honesty, trust and long-term relationships.
PEOPLE } We commit to creating opportunity for our most valuable resources: our associates.
SAFETY } We commit to a standard of excellence in safety that protects the health of our associates and customers.
SERVANTHOOD } We commit to listening, learning and continually improving to ensure customer value.
RESULTS } We commit to achieving our financial goals of profit, sales growth and waste reduction so we may keep
making a measurable difference for our associates, customers and communities.
HOW DID WE GET HERE
...
"THERE HAS TO BE A BETTER WAY."
THAT'S WHAT CHUCK WALL THOUGHT OVER 20 YEARS AGO WHEN HE SET OUT TO SOLVE UNLOADING CHALLENGES FACING THE GROCERY INDUSTRY.
As a commerce veteran with 25 years of experience in the transportation and distribution of grocery merchandise, Chuck understood those challenges better than anyone.
He witnessed the inefficiency and expense created by the deregulation of trucking during the 1980s. He understood drivers' reluctance to unload freight, and envisioned a better way.
In 1991, Chuck Wall and Jayne Beth, his wife, pioneered the professional unloading industry with the creation of Freight Handlers, Inc. With a reliable and professionally trained staff of handlers, FHI quickly fulfilled Chuck's vision by bringing new levels of productivity and transparency to carriers, vendors and distribution centers.
The spirit of "finding a better way" continues to evolve at FHI. FHI remains committed to improving the industry and contributing resources to improve the flow of product to consumers.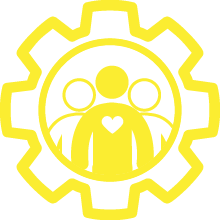 LEADERSHIP AT EVERY LEVEL
...
Leadership is a process built on trust. It is an intrinsic element of our company, improving performance and equipping each individual associate with enhanced leadership qualities, enabling empowered decision-making at the local level. Meet the team.
THE TEAM
As CEO, Ryan lives out a passion for serving one another to create memorable and measurable differences. Ryan places significant emphasis and energy towards leadership development that enables continuous improvement in associate & customer satisfaction.

CHUCK WALL

Founder & Chairman

FHI's founder who was the key pioneer of today's professional unloading industry, Chuck has 40+ years of influencing supply chain improvements for prominent retailers, carriers & manufacturers. Prior to starting FHI, he was an executive at a regional carrier serving manufacturers & retailers. During a transitional time in the trucking industry, Chuck's passion to make a difference enabled the start of FHI.

Reid is President and Chief Operating Officer with 25+ years of experience. Reid's background is a unique combination of disciplines, having spent the first 10 years of his career holding various leadership positions within the technology field. Prior to joining FHI, Reid held various Director and VP level positions with Koch Industries, Disney and Williams Sonoma. Reid's most recent position prior to FHI was serving eight years as Vice President of Supply Chain for Technicolor. He brings a wealth of knowledge in supply chain best practices and continuous improvement.

Originally FHI's Controller, Tal has also held the positions of VP Finance and Chief Administrative Officer. Prior to joining FHI, Tal served as Controller at C.S. Henry Transfer, Inc., a regional trucking company in Eastern North Carolina. As CFO, Tal is strategically responsible for the company's finances, banking and external audit/tax relationships. Tal led the internal development team for "FHIQ", FHI's proprietary software that captures transactional data used in billing, payroll and reporting.

A graduate of Mississippi State University, Rick has worked in the transportation industry for 30+ years, including 10 years in less-than-truckload operations in both union and non-union environments. His responsibilities have included new terminal openings, sales management and general management. Rick moved to truckload transportation and previously held positions in national sales and executive management before joining FHI 11+ years ago. Rick has executive oversight for FHI Logistics.

A graduate of Purdue University, Suzanne has over 17 years of Information Technology leadership experience in a variety of industries. Prior to joining FHI, Suzanne successfully led multiple IT organizations in both the private and public sectors. Having started her career in software support, Suzanne cares deeply about customer service, communication and the overall customer experience. Her experience in all facets of IT allow her to lead the organization to assist the business with the big picture and provide solutions that enable her customers to work more effectively and efficiently.

Richard has 23+ years of experience in the Grocery Industry and joined FHI in 1995. Richard has acquired 20+ years of experience with FHI in the many Distribution centers across the country. Richard's career commenced as a FHI Handler and worked his way through the various levels of leadership as Dock Lead, Administration Lead, Road Crew Manager, Site Distribution Manager, Regional Manager, and Director of Operations.

Will Seel is Vice President of Business Development, with a specialization in FHI Distribution and responsibility for business development and marketing. Prior to joining FHI, he worked in strategic business development for several transportation companies. Notable is his 10 years as FedEx Services Market Development and Strategic Development Sales Executive, where he sold a portfolio of transportation services to clients across various industry sectors. Will holds a bachelor's degree from Appalachian State University. He lives in the Raleigh area with his wife and two children.

Chad's passion is to positively influence the lives of others through Servant Leadership. He has been influential in helping shape the culture at FHI serving the organization for 24 years at every level in operations from Handler to Senior Regional Manager. In his most recent role, he served as the Director of Leadership Development. Prior to FHI Chad served in the US Navy. In addition to serving at FHI, Chad also serves with various mission's teams around the world to bring hope and love to the less fortunate.

Jeff has 23+ years of experience in the Grocery, LTL, and 3rd party logistics industry and joined FHI in 1998. Jeff's journey has taken him from Coast to Coast with many different customers. Jeff started FHI as a Handler and worked his way through many levels of leadership as Dock Lead, Production Manager, Operations Manager, Regional Manager, and Director of Operations. His passion is people and the development of those around him.

MELVIN CHANCEY

Senior Vice President, Operations

Melvin joined FHI in 1998 and has over 30 years of experience in the Grocery Industry. He has acquired 20 + years of experience with FHI in numerous Distribution centers across the country. He started his career with FHI as a Handler and worked his way through the various levels of leadership as a Site Distribution Manager, Regional Manager, and Director of Operations.

Mo joined the FHI team in 2021 after spending 6 years as an FHI customer with IPS Corporation. Mo has 30+ years of Manufacturing and Warehousing experience in multiple industries. He began his career with General Motors Corporation as a production supervisor and completed his GM career 22 years later as a Plant Manager. Since that time, he has held executive leadership positions at Technicolor, NIBCO and IPS Corporation. Mo earned his Bachelor's in Industrial Management from Carnegie-Mellon University and his Master's in Manufacturing Management from Kettering University. Mo's focus has been the pursuit of eliminating waste and improving efficiencies while partnering with all the different disciplines necessary to make operations flow. Mariso is married and has 4 children.